Four Points Hotel
August 27, 2022 – August 28, 2022
Faculty of Medicine and Health Sciences, Universitas Islam Negeri Alauddin Makassar will hold the 1st Alauddin Health and Medical International Conference ALHAMDIC 2022. This conference will provide opportunities for the delegates to exchange new ideas and experiences face to face, establish business or research relations,  and find global partners for future collaboration.
The goal of ALHAMDIC is to bring together academia, stakeholders, and industry to focus on the topic issues toward establishing collaborations. The event will be held on two days, 27-28 August 2022, with presentations delivered by researchers from the international community, including presentations from keynote speaker and scientific parallel session presentations.
Announcements
No announcements have been published.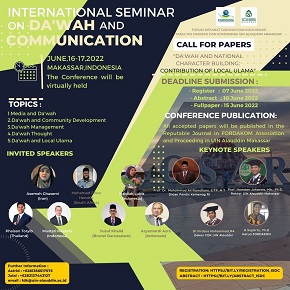 Conference Information
This work is licensed under a
Creative Commons Attribution 3.0 License
.
International Seminar Da'wah and Communication